Vanilla Dazzle is a user on wikis related to Khan Academy. She is retired from discussions & chat moderator on the Khan Academy wikia and an admin on the chat wikia (here) and the KA Users wiki, as well as being founder of KAOS, where of course, she has privileges.

In early 2016, her "Sunset With Lake" skyrocketed to the top of the hot list. A few weeks after, she made the hot list with a pre dawn snowy skyline.
She has been known to refer to herself as "the mama bear" and the other moderators and regulars prior to Dec 29th 2015 as "her cubs." She did this because she wanted to protect them, though after December, she was the one that needed protecting, as she was targeted for cyberbullying by some of the users that were banned when she was in the chat room. She has stopped learning because of this, though she does maintain her streak. So sad... Nobody cares....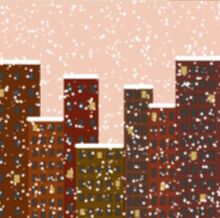 She has nicknamed and tried to nick name many others from the wikia. For example, she has dubbed Tibet "Tibby", HM as "Mickey" and "the real McCoy" and Eytukan as "Tuk". She tried to give TJ a nickname, but he turned down "Riq" and "Jabby"
Besides doing coding on KA, she likes to watch dance videos on youtube and cooks/talks about food. She is an avid supporter of the presidential candidate Donald Trump.
On Khan Academy, VanillaDazzle has over 8.8 million points and is on a 211 day streak and counting!